Why Do We Need a Hella Black Trivia?
Have you ever played trivia somewhere and noticed that the questions had an unspoken… cultural slant? No one calls it 'Very White Trivia', but often, that's what it is.
In 2015, at a Boston bar, we noticed this, and we wanted to do something about it. So we set out to create something we imagined but had never encountered: a game with trivia questions crafted with the African Diaspora in mind, with a vibe that would give folks an authentic Black experience.
In December 2015, in Roxbury, Massachusetts, Hella Black Trivia was born.
We… had no idea what we were doing. But we knew we had something. And from the very beginning, we developed a following — people loved HBT! With experience, we mastered our craft. Our reputation grew. What started as monthly events in the neighborhood expanded to bars and restaurants, then to schools, nonprofits, law firms, banks, and hedge funds all across the country.
Today, Hella Black Trivia is who we are and what we bring. We provide a genuine Black game that's inclusive of everyone, with atmosphere that's fun no matter your background. We do it with love, which is why we say that Hella Black Trivia is trivia with seasoning.
– Jeff aka "The Professor"
To all other trivia games: no beef. Hella Black Trivia is simply trivia with seasoning. Buy it. Gift it. Experience it.
Number of Players: 2+
Playing Time: Approximately 30 minutes+
Ages: 12+
Price: $25 (No shipping included)
Shipping: $5, Only USA
This item ships directly from our warehouse in Boston, MA. Item is ready to ship in 1-2 Business Day(s). Delivery date will vary depending on your shipping address.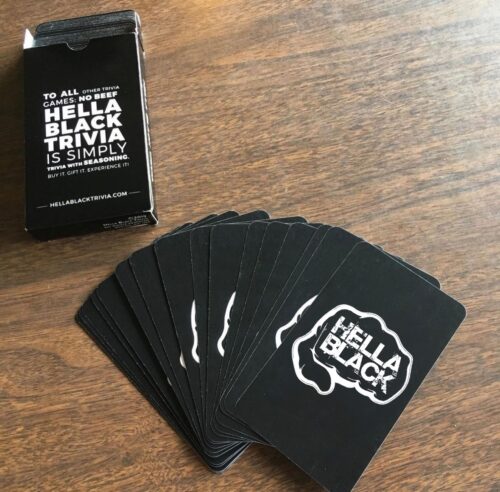 (We usually answer within a few hours)